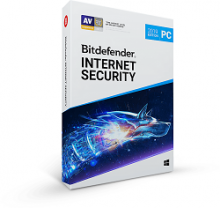 Bitdefender Internet Security, 1 User
Description
Bitdefender Internet Security is security software that protects computers from viruses, spam, and other online threats.
This donation provides a subscription for use of the product on one computer for one year. The subscription includes protection updates and new product features. The product will cease to function entirely after one year unless the subscription is renewed.
Benefits for Organizations
You can use Bitdefender Internet Security to
Protect your organization's data from viruses, worms, Trojan horses, botnets, rootkits, ransomware, and spam
Reduce system administration costs by keeping your computers running smoothly
Prevent uninvited connections to computers and other devices so intruders can't steal information, install and launch programs, or make other dangerous changes to your organization's computers
Major Capabilities
Remote management: A dashboard displays the status and licensing information about your software and services in one location that is accessible from any web-enabled device.
Firewall: A firewall continuously monitors your Internet connections and prevents unauthorized access, even over a Wi-Fi network.
Phishing defense: Internet Security analyzes and blocks websites that support scams or credit card phishing attempts. It automatically opens banking and shopping pages in its own secure browser and prevents critical data like your Social Security number from being transmitted.
Behavior-based protection: Internet Security stops emerging threats by analyzing the behavior of a given program or process in a virtual environment before it is executed. If it is deemed safe to run, Internet Security continues to analyze the process while it's running to identify likely threats that have not yet been reported.
Rescue mode: If threats like rootkits cannot be removed from within the operating system, Internet Security will reboot the computer in a trusted environment to clean it up and restore it to a safe state.
No Additional Devices
Make sure to request the correct product for the number of devices you need to protect. You won't be able to add protection for additional devices once you have installed this product.
BigTech also offers Bitdefender Internet Security for 3 devices or 5 devices.
Choose Carefully
The administrative fee for this product is not refundable, and the product cannot be exchanged.
System requirements
See the system requirements at the bottom of this Internet Security page.
Bitdefender cannot run alongside other antivirus programs. In order to use Bitdefender, you must first uninstall them.
Restrictions
To review the Bitdefender Program Rules, Eligibility and Restrictions please click here.
Obtaining this product
When BigTech approves your request, we will send a message to your organization email address with instructions for obtaining and activating this product.