Donations of Windows 8 Are Now Available!
By: BigTech
Mon, 29/10/2012 - 11:50
Windows 8 is here! Eligible NGOs can now request donated upgrades of Windows 8 Professional and Enterprise editions through the Microsoft Software Donation Program at BiGTech Donations Program.
With a new mobile-friendly design that features sleek tiles in the place of conventional icons, Windows 8 Windows 8 features an updated representation of the traditional Windows environment. It keeps some aspects of what we're all used to from Windows XP and Windows 7. But it drops the "Start" button in favor of a new, app-integrated look and easier syncing with cloud-based services. There are also numerous improvements "under the hood," such as a smaller memory footprint, faster performance than Windows 7, and reduced disk-space requirements. 
If you have received a donation of a Windows operating system through BiGTech Donations Program that included Software Assurance (and it is still current), you can upgrade to Windows 8 for no additional cost.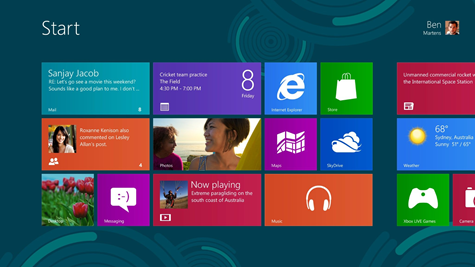 What's New in Windows 8? 
SkyDrive sync: Microsoft's cloud storage program is built in to just about every application in Windows 8. If you log in to Windows 8 using a Microsoft account, your apps and preferences are synced to the cloud. When you log in to Windows 8 on another computer, your settings and preferences will be available to you — so you get the same consistent Windows 8 experience, no matter where you are.
Energy efficient: Windows 8 saves battery life by dropping to a low-power state when you're not doing anything power-intensive. 
More secure: Windows 8 comes with Windows Defender malware and virus protection. It also provides better defense against malicious downloads through the SmartScreen filter, which is built into the operating system.
Plus: Windows 8 is good for multilingual organizations, as users can easily switch between display languages, and additional display languages are available. 
Is Windows 8 Right for You?
Windows 8 is unlike any operating system Microsoft has ever released. Many of the basic tenets of Windows — like the Start menu, desktop experience, and the eponymous windows — seem to be gone. Don't worry! Below Windows 8's new interface, you'll find a desktop experience similar to Windows 7. And the new Windows 8 interface feels like the mobile tablet and phone interfaces most of us are now used to.
Plus, Windows 8 offers some new features that may help your staff's productivity as well as the performance and longevity of your organization's computers. To help you decide whether Windows 8 is a good fit for your organization, we've come up with four questions for you to consider.
Easily See What You Can Request 
To help you manage your Microsoft donations, we've created the Microsoft Donation Center. Organizations can easily track what donations they have received so far, what remains of their software allotment, when their cycle resets, and the value of their Microsoft software donations to date. 
Get Full Versions of Windows 8
In addition to upgrades, Microsoft has also made donations of full versions of its Windows 8 operating systems available through the Microsoft Get Genuine program.
Your organization might have PCs with illegal, free, or basic operating systems — either from accepting donated machines or buying the computers for bargain-basement prices. Microsoft's Get Genuine program offers your organization a one-time chance to get your existing computers running fully legitimate and upgradable Windows operating systems. This enables your organization to easily upgrade through BiGTech Donations Program when the next operating system version is released. Read more about the Microsoft Get Genuine Program.